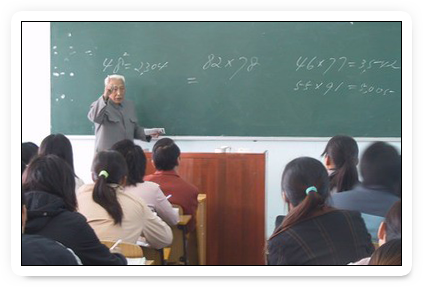 Mr. Gao (高元勋 Gao Yuan Xun, born 1927), a Mental Arithmetic Master lives in Ji Lin, endeavors to popularize mental arithmetic zealously regardless of his age. Mr. Gao loves abacus since childhood, he was engaged in financial department since the age of 16. With the title of "Math Genius", he won a lot of champions in arithmetic competitions.

He dedicated his time to propagate the traditional mental arithmetic knowledge after retirement. He was invited to give talks in Universities and even taught masses in the street on mental arithmetic. Until one day, in order to spread his knowledge better and farther away, he found it is necessary to keep pace with the times.

At the age of 78, he started to learn computer from zero, and within four years, he was able not only to type, chat, email, surf and even created his own blog. He propagates mental arithmetic knowledge on his blog and by visual conference tutoring on QQ, he is online every day to offer tuition and answer questions.

"Prenatal education for babies, enlightenment guide for children, wisdom exploitation for students, broadening the scope of thoughts for adults, enlivening brain functions for elders, is the ultimate" Mr. Gao repeatedly urged and emphasized.

Mr. Gao, an elder of 91 with energetic and agile mind, is still striving to learn and overcome difficulties to accomplish the mission of making mental arithmetic widely known. Undoubtedly, Mr. Gao is giving a strong and convincing demonstration in person on the benefits of practicing mental arithmetic by himself.

Welcome to contact him to show your interest, care and support by jl990088@163.com or QQ: 293593260 or visit his blog http://hexun.com/h8765194 Mr. Gao learned numbers through abacus when he was a child. Unlike children nowadays, he did not get Maths Phobia due to abstract mathematical concepts. Abacus is easy to learn and understand, and he regarded it as an amusing toy. Great enthusiasm and interest on mathematics was cultivated consequently.

Mr. Gao is proficient in arithmetic very quickly and he began studying the relationship of numbers in his spare time. Finally, combined with more than 30 years of working and teaching experience, he summarized and concluded with a great many arithmetic rules for Four Fundamental Operations according to specific numeral pattern.

After Mr. Gao retired in 1983, he started to publish five books on the topic of mental arithmetic, namely "Brain Maths", "Brain Maths Principals", "Brain Maths Exercises", "Abacus Handbook" and "Preschool Mathematics Exercises". The publication was selected and won the "Ji Lin Excellent Arithmetic Book Award".

In August of 2004, Mr. Gao was elected as an executive board member of of Ji Lin Science Books Authors Association. Thereafter, seminars were hosted in different parts of China, he attended various academic conferences in 2004, 2006, 2007 and 2008 to introduce and propagate his "Brain Maths".





Brief Introduction of Master Gao's Five Award-Winning Books:

1. Brain Maths

Detailed explanation and demonstration on every rule for mental arithmetic includes four arithmetic operations and evolution of a root.

2. Brain Maths Principals

Essential points of "Brain Maths" are outlined and pocket size design is convenient for everyday's handy carrying.

3. Brain Maths Exercises

"Why can you still associate numbers with relationships immediately whenever you see one?""Practice makes perfect, once the knowledge is acquired, sublimation of knowledge to skill always requires for hardworking and drilling. Keep contacting with your knowledge in your everyday living and soon it will become your techniques." Mr. Gao answered affirmatively.

4. Abacus Handbook

Mr. Gao uses and treasures his abacus till now, he wrote this book particularly dedicated to abacus learning. Integrated with his practical experience  in abacus and examination questions set, it is a great book for abacus lovers.

5. Preschool Mathematics Exercises

Exercises are tailor-made and questions are organized for parents as a guide to teaching infant or children preschool mathematics.

"The whole package is very suitable for parents and adults for self-learning purpose. Many parents come to me for learning and teach their children afterwards. Children of around 10 years old are able to understand and grasp the methods extremely fast, they are going to make use of it in the future." Mr. Gao reasserted.

Due to the requirement of students of all ages, the tutorials are divided into different classes,  "Teacher Class", "Parent Class", "Children Class", "Adult Class" and "Elderly Class" are arranged for people of specific needs. Coaching is carried out by utilizing QQ (China MSN). People can communicate and ask questions via video conferencing and the duration of  every lesson is around 40 minutes.

Please visit http://blog.sina.com.cn/1927gaoyanxyn for Mr. Gao's  interpretation on selective methods for "Brain Maths". Despite advanced years, Mr. Gao is very eager and positive for comments. If you are interested in Mr. Gao's theory on "Activating Brain through Brain Maths", do not hesitate to discuss with him, and do not miss the valuable chance for learning directly from him. You can contact Master Gao by jl990088@163.com or QQ: 293593260.